Reserve your spot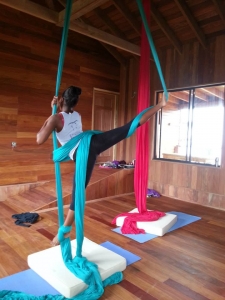 Aerial Dance
This class is an introduction into the world of Aerial Dance. The apparatus consists of two pieces of fabric that are suspended from the ceiling. Students of all levels of physical ability may take this class. No prior experience needed for beginning level classes.
Learn the art of Aerial Dance
You will learn the fundamentals of climbing techniques, inversions, specialized foot locks, balances and mid-air basic movement combinations on aerial fabric.
Build strength, endurance and focus
We will work on developing strength, flexibility and coordination, as well as exploring the creative element of aerial dance.
Improve flexibility
Using gravity and the support of aerial fabric, students can deepen their stretches and improve flexibility.